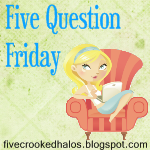 1.
If you bake during the holidays, what is your favorite thing to make
? I love baking cookies. My must bake cookies are sugar and snicker-doodles!
2.
Present giving: Gift bag vs wrapped box
? I love a wrapped box for giving. I just love using tape!
3.
What do you keep your thermostat on during the winter/summer in your house
? In the winter, we keep it around 60 degrees when my husband isn't home. My son and love to layer so it's fine for us. But when Dad's home I'll have it around 68-70 degrees. In the summer I keep it around 70 degrees.
4.
When thinking of your "Christmas to-do list" what percentage "done" are you
? I would say 15%. I'll be baking cookies, for gifts, this weekend. The shopping will be on the 21st.
5.
Do you do the "Elf on a Shelf"? If so, is your Elf naughty and what shenanigans has he gotten into?
I actually had to look up "Elf on a Shelf" but once I did I remembered the ones my mother had while I was growing up. So, back to the question. No, we don't have "Elf on a Shelf".