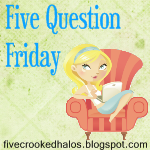 Thanks
My Little Life
for hosting Five Question Friday!
1.
What is your best secret cleaning tip
?
Baking soda! I use it to clean the dried food stains, grease and dirty kitchen floors. It's wonderful as a scouring powder in the bath tub and tile. You can also add 1/2 cup to your wash, as a stain remover and deodorizer.
2.
What is your favorite food to snack on during movie night
?
Popcorn! My husband usually pops a bowl of Orville Redenbacher popcorn, on the stove, before we watch a movie or TV show together. He never burns it, seasons it just right with salt and melted margarine. Yum.
3.
If it was up to you, what would you have named the royal baby
?
I actually like the name Joseph. It's my father-in-law, husband and son's middle name.
4.
If you could be any Disney character who would you choose
?
I've always like Daisy Duck. She and Daffy have been together for many years. And she has the cutest shoes.
5. W
hat's the most important part of a healthy relationship
?
Don't berate your spouse or partner...ever! It's just wrong.