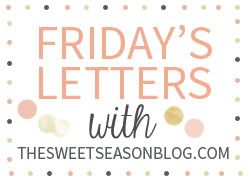 .

Dear Las Vegas, I'm so thrilled the temperatures have finally dropped and autumn has arrived. The husband and I are looking forward to enjoy some outdoor activities, such as walks, biking and
First Friday
.
Dear Real Housewives of New Jersey
, It's time to cut your loses and cancel the show. You fired Jacqueline, Caroline has quit and Kathy has been reduced to "a friend of the housewives. And of course, Teresa and Joe's status is still up in the air.
Dear Green Mountain Coffee
, We love your Mocha Nut Fudge Coffee.
The taste of fudgy chocolate, coffee, nuts and caramel
. It's a wonderful way to start the morning.
Dear Hubby
, I'm moving your long sleeve shirts to the front of the closet. Now you won't have to be digging for them early in the morning.
Dear Neighbors
, We'll miss you when you move but not your dog's barking at 6 am Sunday.